Published:
Friday, October 18, 2013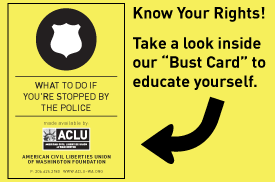 Last year, after pressure from the ACLU and a number of community groups, the City of Seattle and the Department of Justice entered into a settlement agreement relating to police practices. It avoided a lengthy court battle over DOJ's allegations that the Seattle Police Department had a pattern or practice of the excess use of force.
A part of that agreement – called a Memorandum of Understanding – established the Community Police Commission.  The Commission is made up of 15 volunteers who accepted the important task of engaging with the many communities across our city to ensure that diverse voices and opinions are heard during this reform process.   I am pleased to represent the ACLU of Washington on the Commission.  We are working hard to improve policing in our city while also reminding community members about their rights when they interact with the police. 
Of course, the ACLU-WA has worked for on police issues for decades, and our wallet-sized "bust card" on people's rights with police remains as popular and relevant as others.
If you are interested in learning more about the work of the Commission, you can visit their web site.  http://www.seattle.gov/policeCommission/