Published:
Wednesday, February 2, 2011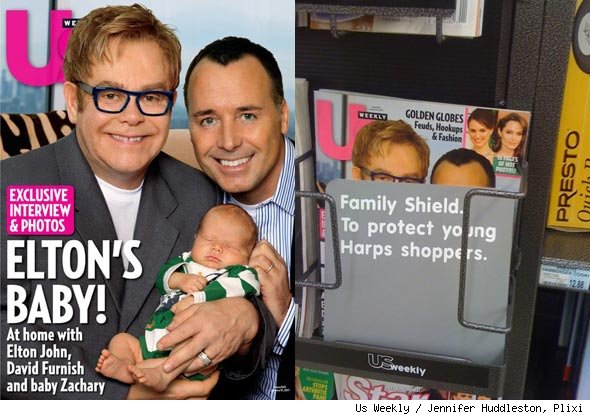 When is a happy, healthy, and well-to-do family considered censorship-worthy? According to a grocery store in Arkansas, censorship is necessary when the family includes same-sex parents.
Elton John and David Furnish, long-time partners who married in Windsor in 2005, were featured on the cover of U.S. Weekly with their new baby. Harps Food Store store felt that the image was "obscene" enough to necessitate the use of a family shield-style cover usually reserved for pornography and graphically violent pictures.
The original cover of the family, beaming with happiness, was seen by a woman in line who used Twitter as her action of choice. Sending tweets to Anderson Cooper, Kathy Griffin, Ellen DeGeneres, the Gay & Lesbian Alliance Against Defamation (GLAAD), the ACLU and others, she made sure the Internet, and the grocery store, knew this was unacceptable behavior. The grocery store eventually took the family shield down after censorship of the picture was made public.
Everyday actions can influence people's perceptions of what is acceptable in our society. By putting up the "family shield" on Elton's family, Harps sent the message that same-sex families are "obscene" and should not be seen by children (or anyone). For those of us who are strong supporters and activists for gay rights concerning relationships, fair employment, service in the military, fair treatment in schools and equality in general, to put a picture of a joyful couple in the same category as pornography and graphic violence is inexcusable. The focus should be on the loving relationship of the people who are creating a family.