Published:
Tuesday, July 14, 2015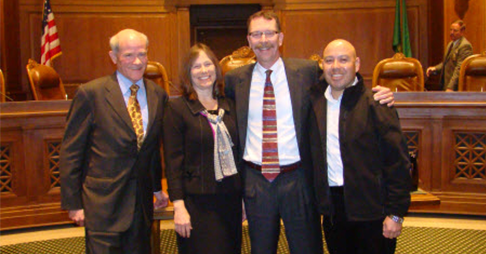 In 2002, Alex Salas was a carpenter climbing scaffolding at a work site on a wet day in October when he slipped and fell more than 20 feet. He suffered 10 fractures and underwent 13 surgeries, and sued the contractor who was responsible for his injuries. At the first trial in 2006, the contractor was ruled negligent as a matter of law but the jury refused to award any damages to Mr. Salas. At a second trial that ended a few weeks ago, the jury awarded over $2.5 million in damages. Why the difference?
Because the jury at the first trial was allowed to hear evidence that Mr. Salas lacked legal immigration status, while this unfair evidence was excluded in the second trial. He had come to the United States from Mexico in 1989 and worked in construction but his visa expired in 1994. He had lived in this country and paid taxes for nearly two decades, and was married with three U.S. citizen children.
At his first trial, the contractor was allowed to tell the King County jury that Mr. Salas had undocumented status at the time of his trial. Several jurors expressed anti-immigrant bias and participated in the ruling rejecting damages for Mr. Salas. He challenged the ruling and the ACLU filed a friend of the court brief supporting his arguments in the Washington Supreme Court.
Our brief explained that the evidence of his immigration status was improperly inflammatory and prejudicial. It "skewed the truth-finding process" and allowed an important legal decision to be based on the jury's prejudices and speculation about deportation rather than the legally relevant facts. The state Supreme Court agreed and ordered a new trial where the facts about workplace conditions could be considered without the taint of anti-immigrant bias.
Nearly 13 years after his severe injury, Mr. Salas received justice. When bias and prejudice were removed from the case, the jury was able to see that he was owed fair compensation for his injuries. We agree with the comments of Mr. Salas's attorney Rob Kornfeld: Access to justice and compensation for a worker's injuries are the rights of all, without regard to race, ethnicity, or immigration status.
The ACLU-WA is committed to fighting to defend the rights of immigrants, just as the ACLU has done since its first years of existence in the 1920s. (https://www.aclu.org/guardians-freedom)
More information and the filings are available through our legal information center.