Published:
Wednesday, September 15, 2010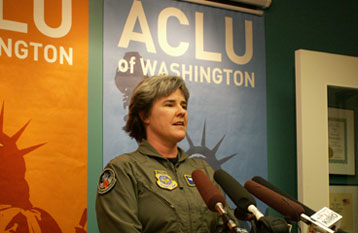 Day 2 of Witt v. Air Force started with testimony from Darren Manzella, who served in the Army for six years as a health care specialist after enlisting in 2002 and was twice deployed to the Middle East. His testimony focused on the need for honesty about oneself in building a team, saying "In the military, trust is essential."
In August 2006, Manzella wrote an email to his supervisor explaining that he could no longer live in silence under the "Don't Ask, Don't Tell" policy. He was deployed to Iraq for a second time, serving for more than a year with his commanders knowing he was gay. He became the first openly gay servicemember on active duty to speak to the press from a war zone when CBS's 60 Minutes broadcast a story on him in December 2007. Seven months later he was discharged under DADT. Manzella said that in the months after the program's airing, all the servicemembers with whom he spoke were supportive. He stated that freedom to be himself made him a better soldier.
Much of the day centered on testimony by Anthony Greenwald, Professor of Psychology at the University of Washington, a much-published expert on prejudices and attitudes. Prof. Greenwald testified that the "Don't Ask, Don't Tell" policy is based on mistaken assumptions. He said that study after study has shown that people exaggerate the perceived bias of those around them. So, if unit commanders believe that a majority of their troops would be uncomfortable serving with a gay or lesbian servicemember, they are likely overestimating the actual impact of openly gay soldiers on other servicemembers. Further, he said that forcing lesbian and gay servicemembers to keep their sexual orientation a secret tends to increase fears and reinforce prejudices. (Read his written Declaration for the trial)
Next up was Heather Julian, a school nurse and retired member of the 446th Aeromedical Evacuation Squadron, who served with Maj. Witt in that unit. She spoke of Maj. Witt's leadership abilities and of her being a devoted team member. Stacey Julian, currently an active-duty Master Sergeant in the 446th, followed his wife to the stand, testifying in uniform. He spoke about the unit and his desire to serve again with Maj. Witt.
Since 1993, more than 13,000 service members have been discharged due to their sexual orientation. At least 240 of those service members have been discharged since President Obama took office. The Senate will debate DADT as early as next week. Join the ACLU in urging Congress to act this year to finally end DADT once and for all.