Published:
Wednesday, October 31, 2012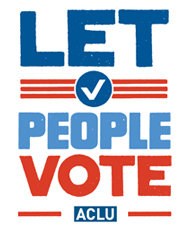 Marginalized people need to know that they have the right to vote. To that end, I was recently one of a small group of thoughtful, committed Seattle University law students who helped people in local homeless shelters and food banks participate in the democratic process. Our volunteer project had the support of the ACLU of WA, Seattle University School of Law, and Seattle King County Coalition on Homelessness (SKCCH).
Among others, we registered people with felony records who did not realize they were eligible to vote. We explained that state law changed in 2009; now citizens with felony convictions have their voting rights restored automatically after completing their time in prison and serving any required community custody supervised by the state Department of Corrections (DOC). We educated support staff, case managers and house managers of shelters and social service organizations serving impacted communities, providing community resource and referrals for legal questions they had regarding residents. One house manager said, "I had no idea about the felony voting rights law. Can I have more of those little cards? (i.e., ACLU voting rights cards) I'll bring them to my AA meeting this week."
In one hour alone, we registered 11 people at the transitional housing facility at the Aloha Inn – many of whom did not know that they could vote even though they lacked permanent housing. At the Hammond House, a homeless shelter for women downtown that resides in the belly of a skyscraper, 9 women were eager to register as soon as we walked in. We found that some voters simply needed to update their address but had not done so due to the inconvenience of attaining a voter registration form. Lack of Internet access also impacts these communities. Approaching vendors of Real Change on the street was also successful. On the final day of the drive, we aligned with SKCCH and Poverty Action for a door-to-door registration drive.
When speaking to groups at shelters, it was really helpful to start the conversation about voting rights by sharing why we, as individuals, feel it is important. As a former felon and a law student, I found it was important to share that I was not able to vote in the last presidential election but can vote today due to the legislative change in 2009. Voting is one way that we can ensure that our elected officials represent our diverse communities and our diverse societal needs. At one of the shelters, my testimony prompted a young man to share that he was still under DOC supervision but was really inspired to hear that people who have had a criminal conviction can go to law school. I encouraged him to register as soon as he was off of DOC supervision.
On the final registration day, standing outside a Red Apple in the Central District, I met a retired woman committed to pounding the pavement to register voters. She had a tool belt stocked with ACLU brochures, registration forms, and information about voting rights for people with felony convictions. She said she was making her rounds for the day and would end up in Renton. She shared stories of other active community members independently committed to the cause of registering people to vote. Overall, it was truly inspiring to see the intersection of organizations and concerned citizens putting in the hours to fight for a just democracy where everyone's voice is counted.
My thanks go to fellow Seattle University law students Eugene Sowa, Kristine Stolberg, Jon Madtson, Nicole Gainey, Benjamin Sweeney, and Valerie Balch, who put hours in volunteering to register people to vote.