Published:
Tuesday, May 10, 2016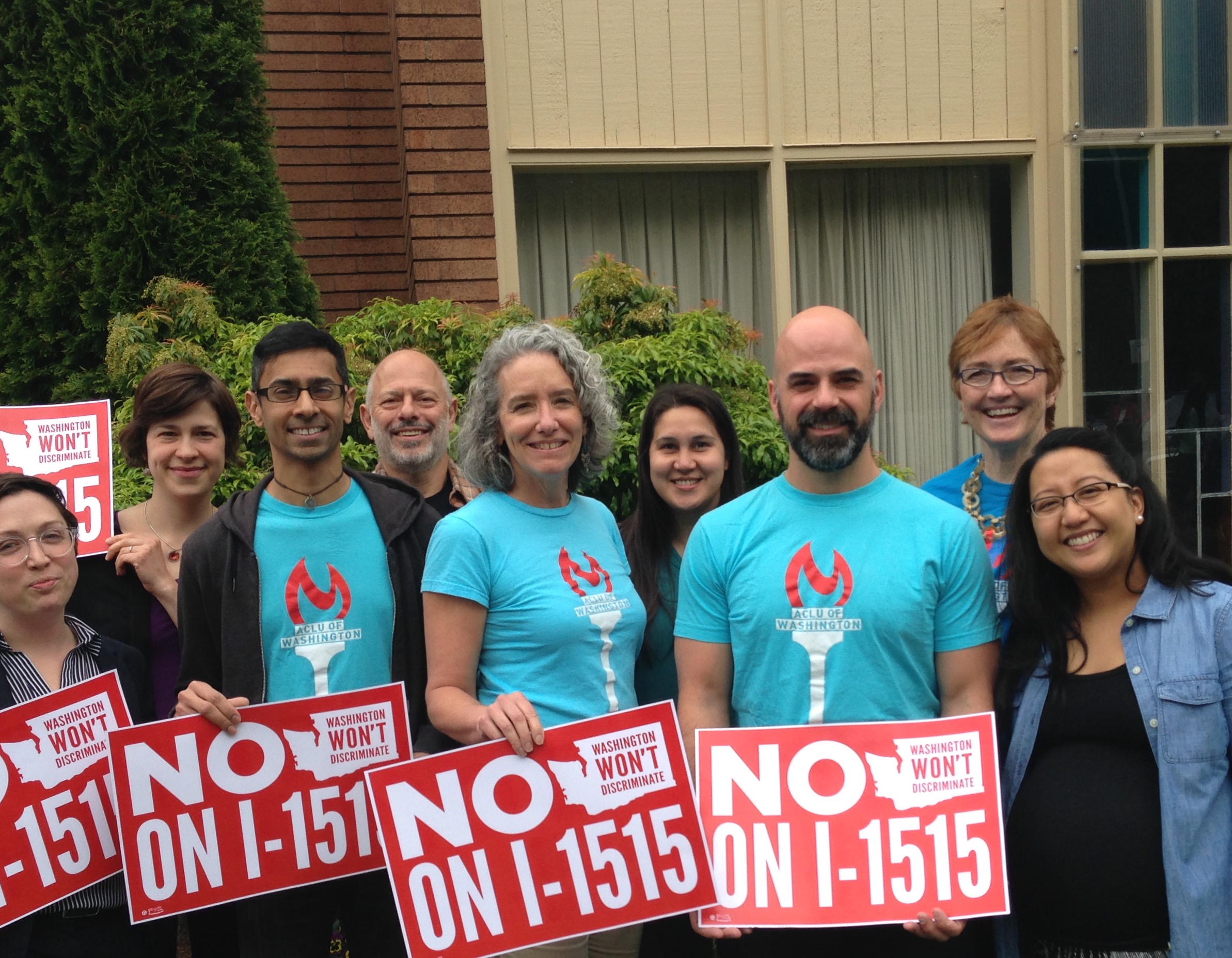 It wasn't SO long ago that many people in Washington feared "giving rights to homosexuals" would endanger our children and disrupt the social order. We got over that ten years ago when Washington adopted a state law that prohibits discrimination on the basis of sexual orientation and gender identity. Then four years ago voters statewide overcame claims that we were tampering with "the sacred institution of marriage" and approved marriage for same-sex couples.

Now we're seeing a new campaign, this time targeting transgender people. It's by the same people who opposed LGBT equality and marriage for same-sex couples. Washington must reject this campaign of fears and ignorance, too.

Recently I was proud to stand with ACLU colleagues and scores of other advocates for equality at the launch of Washington Won't Discriminate, a campaign to defeat the proposed anti-transgender ballot measure, I-1515.

For more than 10 years our state's law has prohibited discrimination on the basis of sexual orientation and gender identity, and has protected trans people in using bathrooms that conform to their self-identity. It's been eight years since ACLU worked with Washington's school athletic association which led the country in adopting rules that allow transgender student athletes to participate on the teams of their gender identity. For eight years Washington students have found that dressing with people of their same gender identity poses no safety concerns to the majority kids. Indeed, just as gays and lesbians are more likely to be the victims than perpetrators of assaults and voyeurism, so too with transgender people. They are the ones who need protection.

But despite this history, opponents of equal rights are gathering signatures to repeal legal protections for our transgender neighbors, family, and friends. If they can wrangle 246,372 valid petition signatures by July 8, the initiative will be on the November ballot for a public vote.
Its passage would encourage more discrimination and harassment of transgender people.

Opponents of LGBT rights are spinning the same tired scare tactics that have been peddled elsewhere – from North Carolina to Mississippi – that our non-discrimination laws threaten privacy and safety. But the truth is I-1515 will do nothing to make us safer. Our laws have protected gay and transgender people from discrimination in Washington for a decade, with no increase in public safety incidents as a result. Indecent exposure, voyeurism, and sexual assault are already illegal, and we can hold offenders accountable under existing laws.

What I-1515 would do is encourage strangers to confront and challenge each other in public facilities, increasing safety and privacy violations. Businesses like Google and Vulcan oppose I-1515 because it would make Washington a less desirable place to do business and open businesses up to costly lawsuits.

I-1515 is similar to North Carolina's controversial HB 2; for instance, both would ban city and county governments from passing local non-discrimination measures to protect transgender people from discrimination in public places, including public restrooms.

Washington Won't Discriminate is a broad-based coalition that includes law enforcement officers, clergy, sexual assault prevention groups, businesses, and civil rights groups.
The ACLU is deeply committed to its work and has a seat on its governing body.

At the campaign launch, the group's chair Seth Kirby spoke movingly about his experience as a transgender male. "It can be hard to understand what it means to be transgender, especially if you have never met a transgender person before," he said. "I-1515 could force me to use public facilities designated for women, putting my own safety at risk and potentially causing discomfort and confusion for others."

Discrimination is not a Washington value. Please talk with your friends and neighbors and be willing to have challenging conversations for the good of us all. Join with the ACLU, the Gender Justice League, the Pride Foundation, the Ingersoll Gender Center, and our many other allies in ensuring that Washington doesn't follow the path of states like North Carolina and Mississippi.