Published:
Tuesday, November 2, 2010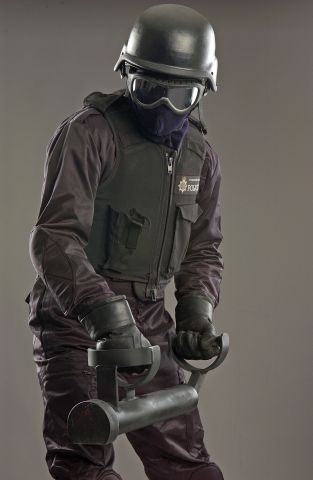 Last Monday, just before 9 o'clock at night, a half dozen Seattle police officers in black tactical gear, with guns drawn, broke down the front door of an apartment with a battering ram and put the man they found inside in his bathrobe face down on his kitchen floor at gunpoint.
The officers' search revealed two marijuana plants, each roughly 12 inches tall, and a document establishing that the man on the kitchen floor had been authorized by his physician to engage in the medical use of marijuana as provided under Washington state law.
Dominic Holden at The Stranger, Casey McNerthney at SeattlePI.com, and Q13 FOX News all have covered the story here, here, and here. Seattle Mayor Mike McGinn has convened an "executive review" of the Seattle Police Department's policies relating to implementation of the state's medical marijuana law and Seattle's ordinance making marijuana offenses, where the marijuana is intended for personal use, the Department's lowest law enforcement priority.
According to the sworn affidavit describing the investigation leading up to the raid, the sum total of the evidence acquired before proceeding was (1) a neighbor's complaint that he or she could smell the odor of marijuana plants coming from the apartment, and (2) the investigating officer and his supervising sergeant confirming they could smell it, too, when they walked up to the second-story landing in front of the apartment and put their noses next to a window. Copies of the warrant documents can be reviewed here.
According to Department policy relating to medical marijuana investigations and Seattle's lowest law enforcement priority ordinance, "[i]n each case, a responding supervisor should consider the totality of the circumstances when considering a course of action." It lists the following factors:
(1) An apparent "for profit" operation.
(2) Presence of weapons.
(3) Theft of electrical power.
(4) Other illegal drugs at the premise.
(5) Record of citizen complaint and/or nuisance behavior consistent with narcotics trafficking.
(6) Presence of children.
(7) Environmental concerns.
(8) Violent crime or other demonstrated dangers to the community.
None of these factors was present in this case.
Before the search warrant application was submitted to a judge for consideration, it was reviewed by a senior deputy prosecuting attorney in the King County Prosecuting Attorney's Office. In 2008, King County Prosecutor Dan Satterberg issued a memorandum to all law enforcement agencies operating in the county that described his office's medical marijuana case review standards. In it, he stated that:
We will ... make ourselves available to consult with law enforcement during any ongoing discovery or investigation to help in the complicated process of distinguishing between legitimate patients/providers and those who are merely exploiting the law to hide their commercial or recreational and criminal purposes.
Additionally,
Because there is no way to simply know, without investigation, if a person (or group of persons) is in compliance with the affirmative defense, we support law enforcement's reasonable efforts to carefully and sensitively investigate these cases. Failure to do so would be contrary to the law as currently written, and unfair to those who are in compliance with the law.
Here, the senior deputy prosecuting attorney who reviewed the affidavit had the opportunity to assess whether the officer and his sergeant had made "reasonable efforts" to "carefully and sensitively" investigate the case. She could have consulted with them and suggested additional investigation that might have helped them distinguish this legitimate patient from someone exploiting the law for commercial purposes. This didn't happen.
This investigation was conducted in a fashion contrary not only to state and city laws, but also to the police and prosecutor's own written policies. It was unquestionably unfair to the man who was in compliance with the law but nevertheless found himself facedown at gunpoint on his kitchen floor.
An executive review is important, but Washington residents need to know that the laws and policies already in place will be followed by the agencies they entrust with the power of enforcement.