Published:
Tuesday, July 12, 2011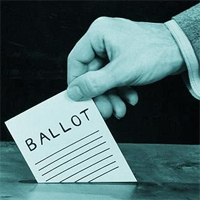 Candidates for elected office in Seattle now will be able to discuss their opponents in statements published in the pamphlet that voters receive in election season.
This seemingly no-brainer rule comes by way of a change recently enacted by the Seattle Ethics and Election Commission (SEEC). The commission voted unanimously last week to get rid of a city rule that prohibited candidates from even mentioning their opponents in Seattle's taxpayer-funded Voters' Guide.
This change means that government will no longer be imposing arbitrary standards of civility on elections.  Instead, if a candidate makes comments that many people find offensive, voters can make him or her pay at the ballot box. The new policy will be in effect for this fall's general election.
The ACLU of Washington had challenged the rule in 2001 in a federal court lawsuit filed on behalf of Grant Cogswell, a candidate for City Council. Cogswell's statement for the primary election pamphlet had been rejected by the SEEC on grounds that it mentioned his opponent. Cogswell ran for council because of his concern over transportation policies, and opposition to the record of his opponent (an incumbent) on such issues was central to his candidacy. 
"Candidates should be free to tell the public clearly and directly why they are running for public office.  Disagreement with an opponent's record is a major reason why many citizens become candidates.  It's ridiculous for the government to prevent them from mentioning their opponent," ACLU-WA executive director Kathleen Taylor said at the time.
"This rule gives an unfair advantage to incumbents. An incumbent is free to tout his or her achievements in office while challengers cannot present their views on the incumbent's record," added Taylor. Indeed, the Seattle Times reported that Councilmember Jean Godden termed the ban "almost an incumbent-protection clause."
U.S. District Court Judge Robert Lasnick in September 2001 ruled the ban was an unconstitutional restriction on speech, noting that freedom of speech is "essential to our democratic ideals." But in 2003 the U.S. 9th Circuit Court of Appeals overturned that ruling, finding the government may place "reasonable" restrictions on speech in a limited public forum such as a city-sponsored voter pamphlet.  Last week, the ACLU-WA cooperating attorney Will Rava submitted comments to the SEEC advocating for the repeal of the rule.
Attorneys Will Rava, Noah Levine, and Lisa Willmer of Perkins Coie handled the lawsuit for the ACLU-WA. Kudos to Rava for sticking with the issue and helping us bring about change a decade later.