News Release:
Thursday, January 19, 2017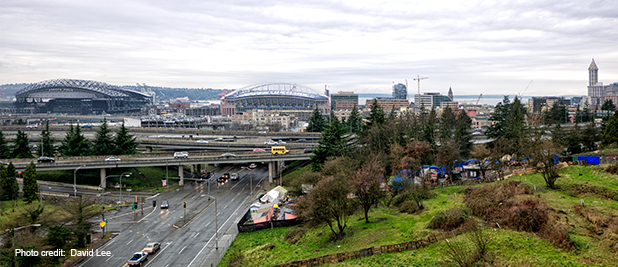 The Episcopal Diocese, Real Change, and two homeless individuals today filed a class action lawsuit against the City of Seattle and the Washington State Department of Transportation (WSDOT) for violating the constitutional rights of people living outside by seizing and often throwing away their property – without adequate notice, an opportunity to be heard, or a meaningful way to reclaim any property that was not immediately destroyed. Property seized and sometimes thrown out includes tents and sleeping bags they need to survive the cold. The ACLU of Washington is representing the plaintiffs in the suit.
 
"Imagine if government agents came to your home and carted away everything you own, without any warning and without telling you how to get back whatever they didn't throw out," said ACLU-WA Legal Director Emily Chiang. "For people living outdoors in Seattle, this horrifying scenario is too often a reality – and has been so for years."
 
According to the Seattle King County Coalition on Homelessness (SKCCH), approximately 2,000 people who lack stable or permanent housing are living outdoors in Seattle.
 
These people have the same right to their personal possessions as any other person in America. In fact, courts across the country have ruled that the destruction of a person's property during the clearing of homeless encampments is unconstitutional, both because property is destroyed without sufficient notice and because the destruction violates the basic right to not have your property seized and/or destroyed by the government. The fact that this property sits in a homeless person's tent does not give it any less constitutional protection than when it sits in a house.  
 
"Ministering to the most vulnerable among us is essential to the Church's mission. People without homes are members of our community and must be treated with dignity. Our public officials must respect the rights of all people and not pursue policies which treat homeless people and their belongings as dispensable," said Bishop Greg Rickel of the Episcopal Diocese.
 
"When our vendors lose their belongings because of actions by city and state officials, their lives are severely disrupted.  They can no longer sell papers and earn an income.  They instead must devote their time to replacing lost articles, and their lives become more unstable," said Tim Harris, Director of Real Change.
 
Represented in the lawsuit are long-time residents of an area just south of downtown Seattle and two organizations:
 
Brandie Osborn lives in constant fear of losing everything she owns due to uncertainty about when and where WSDOT and Seattle City workers will appear to remove her belongings. Brandie has been forced to gather and move all her possessions four times in the past 18 months to avoid having them seized.
 
Lisa Hooper lost irreplaceable family photos and mementoes; important legal paperwork; a mattress; clothing, and several shoes – leaving her without a matching pair – in 2015 when workers for WSDOT cleared the dwelling where she and her partner had lived for two years. Lisa struggles to pack up and move all their belongings in order to keep them from being seized and destroyed. This task is especially difficult when Lisa's partner is away at work, and she must carry everything herself. 
 
The Episcopal Diocese provides services to unhoused people as part of its religious mission and has experienced increasing demand for these services in the wake of clearances of encampments of homeless people. It is comprised of more than 100 worship communities in Western Washington, including St. Luke's Episcopal Church and Trinity Parish in Seattle.
 
Real Change is a weekly newspaper whose mission is to "provide opportunity and a voice for low-income and homeless people while taking action for economic, social, and racial justice." Many of its homeless vendors have lost valuables, including sleeping bags, medicines, and clothing, in clearances of encampments. They have also lost essential identification papers, Real Change newspapers that provide the basis of their income, and irreplaceable mementos and photographs.
 
The lawsuit seeks a court order to stop the City and the Department of Transportation from seizing and destroying property that belongs to people living outside without adequate notice, an opportunity for property owners to contest the seizure, and a meaningful way for owners to reclaim their belongings. 
 
The lawsuit was filed in U. S. District Court in Seattle. Attorneys on the case are ACLU-WA cooperating attorney Todd Williams of Corr Cronin Michelson Baumgardner Fogg & Moore LLP and staff attorneys Breanne Schuster and Nancy Talner.