News Release:
Thursday, May 5, 2016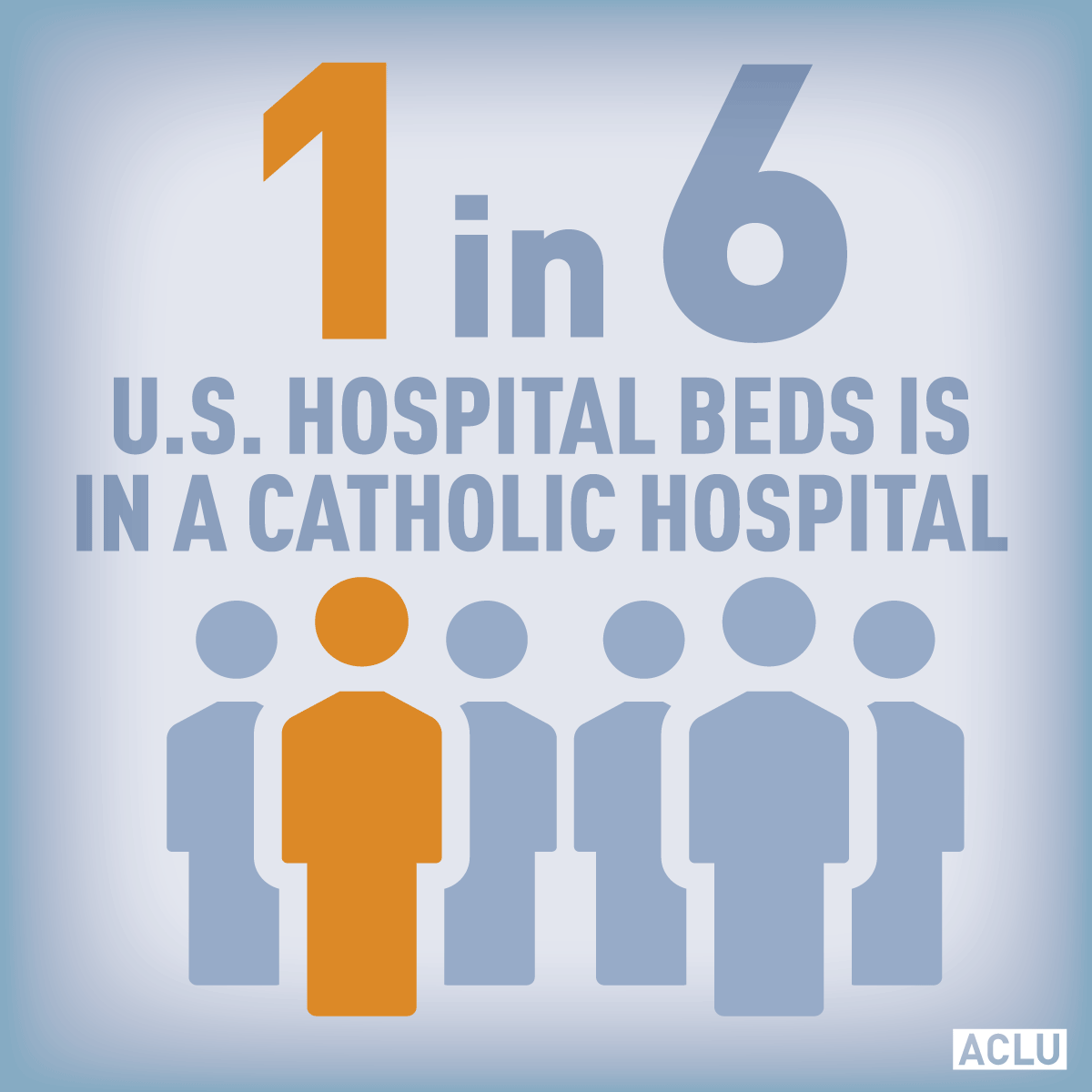 New Report Reveals 1 in 6 U.S. Hospital Beds Are in Catholic Facilities That Prohibit Essential Health Care for Women – Figure Is More Than 40 Percent in Washington State
Washington woman denied medically necessary health care at Catholic hospital speaks out in report
The American Civil Liberties Union and MergerWatch today released reports that reveal that one in six hospital beds in the U.S. is in a facility that complies with the Catholic Directives that prohibit a range of health care services even when a woman's life or health is in jeopardy. In Washington state, more than 40 percent of all hospital beds are in a Catholic facility.
The ACLU's report includes a first-hand account from a woman denied appropriate care at a Catholic hospital in Washington. (see statement at bottom)
"When a pregnant woman seeks medical care at a hospital, she should be able to trust that decisions about her treatment will be based on medicine, not religious policies," said ACLU of Washington Executive Director Kathleen Taylor. "We all have a right to our religious beliefs—but that does not include the right to impose those beliefs on others who do not share them, particularly when that means closing the door on patients seeking medical care."
The Ethical and Religious Directives for Catholic Health Care Services, promulgated by the U.S. Conference of Catholic Bishops, set forth standards that are to govern at Catholic health care facilities. The Directives prohibit a range of reproductive health services, including contraception, sterilization, many infertility treatments, and abortion, even when a woman's life or health is jeopardized by a pregnancy.
Because of these rules, many Catholic hospitals across the country are withholding emergency care from patients who are in the midst of a miscarriage or experiencing other pregnancy complications. Catholic hospitals also routinely prohibit doctors from performing tubal ligations (commonly known as "getting your tubes tied") at the time of delivery, when the procedure is safest, leaving patients to undergo an additional surgery elsewhere after recovering from childbirth. Catholic hospitals deny these essential health services despite receiving billions in taxpayer dollars. Transgender and gender-non-conforming patients suffer the same and other similar harms when seeking reproductive health care.
Report Recommendations:
• A statement from the Centers for Medicare and Medicaid Services (CMS) clarifying that all hospitals, regardless of religious affiliation, are required by federal law to provide emergency reproductive health care;
• A systematic investigation by CMS into violations by Catholic hospitals of federal laws requiring emergency care, and a commitment to taking all necessary corrective action where violations are found;
• Most importantly, a change in public policies, to protect women in need of reproductive health services and the practitioners who are prohibited from providing this essential care.
In Washington state, the ACLU wants the legislature to take action to ensure that religious doctrine doesn't interfere with the health care decisions of patients and their providers.
For the full ACLU report featuring testimony from medical experts and personal stories from women who were denied care at Catholic hospitals, click here .
Find the full MergerWatch report here.
Maria's Story – from the ACLU Report Health Care Denied
Maria (a pseudonym), a health care professional and mother of two in Washington State, was six to seven weeks along in her second pregnancy when she began experiencing heavy vaginal bleeding. She knew she was miscarrying and sought emergency care at the Catholic hospital where she was then working. Although she was aware of the hospital's religious affiliation, her insurance coverage extended only to that hospital, and she could not afford thousands of dollars in out-of-network costs to go elsewhere. Maria's physician explained that the pregnancy was no longer viable and that her uterus needed to be evacuated in order to stop the bleeding. But, because the Directives prohibit an abortion if the fetus still has cardiac activity, her physician advised "expectant management," i.e., waiting to see if Maria's body would complete the miscarriage on its own.
The hospital staff delayed performing an abortion for hours while they attempted to verify through ultrasound that the fetus did not have a heartbeat, as required by the Directives. Finally, after seven hours, the hospital completed the miscarriage. By then, Maria's iron levels were so low that she needed a blood transfusion.
It was not without consequence. All blood transfusions carry risks, such as blood-borne infections and allergic reactions. But what happened to Maria was particularly dangerous. She was transfused with blood carrying Kell antigens and developed anti-Kell antibodies. Because her husband was Kell positive, this meant that their next pregnancy would be at risk for sudden fetal demise. When Maria became pregnant again several years later, she and her husband were terrified throughout that she would suddenly lose the pregnancy.
Thankfully, their baby survived. But Maria and her family could have avoided significant emotional trauma if the Catholic hospital had provided her with the care she needed without hours of needless delay. .