His life mattered: 25 year old Juan Rene Hummel Jr. killed by police July 29, 2020
Can't we prevent this in the future?
By Nancy Talner, ACLU of Washington Senior Staff Attorney
This post is part of a series covering various pieces of legislation the ACLU-WA and its allies and partners are supporting in the 2021 session that seek to reduce police violence and increase police accountability.
I go by the place where he died every single day. I remember hearing the three or four loud bangs in rapid succession on a nice warm summer day last July. Not fireworks; the season for that had passed. It sounded like gunfire. We learned later that it was gunfire, by a Bothell Police officer taking the life of our neighbor, 25-year-old Juan Rene Hummel Jr.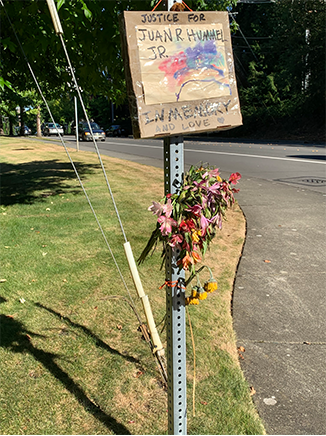 A few days later, an impromptu memorial popped up at the site where Juan Rene died, paying tribute to him "in memory and love" and calling for justice for him.
The local press carried a few reports about his death.
According to
one
story, police rushed to the location where Juan Rene was shot after they received a call about a man slashing tires. Months later, it is still unclear if he or anyone else was actually slashing tires. There has been no evidence corroborating that. It may have been one of those calls we've seen go viral for all the wrong reasons –where a white person calls the police because they are upset about the presence of a person of color in their neighborhood. But even if tire-slashing was occurring, what justifies police taking a community member's life within seconds?
Other local press stories noted that Juan Rene struggled with behavioral and physical health challenges at times in his young life, but persevered and graduated from high school. He attended the same school district as my son, was approximately the same age as my son, and experienced challenges that my son, and so many of us, have faced. And far too many experiencing such challenges have died at the hands of police violence. More than 250 people have been killed by police in Washington state since 2013; see the photo of their names, each one leaving grieving family and neighbors.
Months after Juan Rene's death, his family's grief has been compounded by the
lack of answers
to their questions about what happened.
How could their son's daily walk turn into such tragedy, and so quickly? Six months after Juan Rene's death, a vigil was held at a park not far from the location of the shooting. A chilly cloudy January day, but 75 people – family, friends, neighbors, community – showed up, asking the same questions and still lacking answers.
A few days before the vigil, video of the shooting was publicly released. [Trigger warning – the video is disturbing]
The video
shows Juan Rene running down the sidewalk, then turning when the police car arrives with emergency lights flashing, and walking toward the police car, not running away. For unknown reasons, the officer had jumped out of his police car, but was several feet away from Juan Rene. Within seconds, the officer had unleashed several shots. Juan Rene falls to the street and remains there, motionless, while other officers arrive and talk. It takes many more minutes for medical help to arrive.
Police alleged at the time of Juan Rene's death that he approached the officer with a knife, and they allege a knife was found at the scene. The video isn't clear about whether a knife was involved. Even if it was, the question remains: wasn't there some other way to handle the situation, some way to de-escalate and avoid a use of deadly force, some other way that didn't result in loss of life?
Will there ever be justice for Juan Rene or his family? Other families who've lost loved ones to police violence have faced numerous barriers to justice in the courts – qualified immunity in suits brought under federal civil rights laws, and the Washington state "felony bar" that erects a legal obstacle to lawsuits if defendant officers claim that the person they harmed was committing any felony, including property offenses and "assault of an officer" while resisting arrest, even if experiencing a mental health crisis, at the time. But in recent weeks, the Washington courts have recognized that the felony bar statute, and police blaming the victim of police violence, is an affront to justice, especially where the facts are unclear or disputed, and they have allowed lawsuits by grieving families to proceed (see
here
and
here
).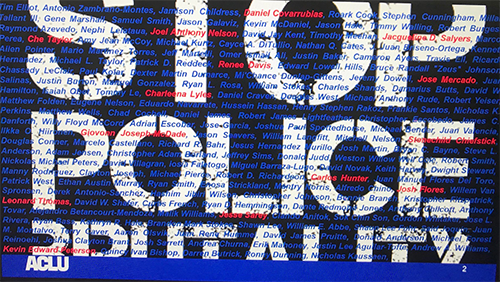 Additionally, the Washington Legislature is considering several very important bills, discussed in
other parts of this blog series
, that address the problem of police violence and increase communities' ability to hold officers accountable:
HB 1310
– Emphasizes de-escalation and use of the minimum level of force possible during encounters with members of the public; requires consideration of whether the person police encounter may be experiencing a mental health crisis, or living with a disability.
HB 1054
– Limits police use of certain hyper-aggressive tactics that have been abused by law enforcement and disproportionately used against people of color.
SB 5263
– Addresses the felony bar rule; this defense allows police to escape liability by claiming the person they harmed was committing a felony at the time, barring any recovery of monetary damages, and therefore removing an important incentive to avoid excessive use of force. To support SB 5263,
sign in PRO
(deadline is March 23
rd
at 9 am).

Please join in working to stop police violence and ask your legislators to support these bills.
Note your position for the public record by signing in PRO on SB 5263 (deadline Tuesday 3/23 at 9:00 am). You can watch the hearing on March 23 at 10:00 AM.
Stay tuned for updates made to this page about future hearings on all of these bills!
Write/call your lawmakers and show your support for these efforts.
Sign up for ACLU-WA's action alerts so that you can keep updated as these policing bills move through the state legislature.