Published:
Tuesday, January 7, 2020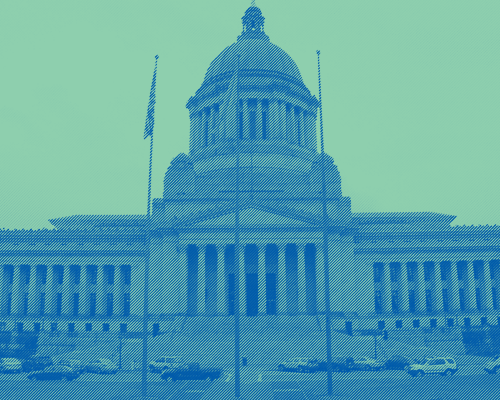 Protecting Courts Open to All Act
HB 2567 and SB 6522
Passed and on Governor's desk to be signed into law
Courts Open to All ensures that everyone has their day in court, regardless of immigration status. Immigration agents have been targeting individuals in and around courthouses in Washington. These practices impede due process and access to justice, spreading fear among people, families, and communities. This bill protects all people from warrantless civil immigration arrests at courts, prohibits court staff and prosecutors from using state and local justice resources to report people for federal immigration enforcement, and requires courts to collect data on immigration agents' surveillance of courthouses in Washington. These measures build community trust in local courts, prohibit immigration agents from interfering in local court functioning, and preserve access to our courts for everyone.

Ending Juvenile Solitary
HB 2277 and SB 6112
Passed and on Governor's desk to be signed into law
Youth entering the criminal justice system often have histories of childhood trauma, mental illness, and substance abuse. Solitary confinement exacerbates these problems and increases the risk of suicide and self-harm. This bill restricts juvenile solitary in Washington state, allowing it only as a final recourse to protect safety, and prohibits its use for discipline. By ending solitary's interference with rehabilitative programs, this bill also reduces recidivism, thereby easing the burdens on our criminal justice system.
Eliminating Unfair Bail Jump Charges
HB 2231
Passed and on Governor's desk to be signed into law

Ending Debt-Based Driver's License Suspensions
SB 6153
Passed out of Senate Transportation Committee, stalled in Senate Law & Justice

Washington should not suspend driver's licenses and then charge people with a crime, driving while license suspended – third degree (DWLS3), for unpaid fines and fees for moving violations. There are better ways we can hold people accountable. This legislation stops the suspension of driver's licenses in these cases, ensuring that public safety is the focus of our state's scarce criminal justice resources—not punishing people who are "driving while poor." It will also ensure that drivers keep their insurance, can get to work, and provide transportation for their families. Reforming these laws will increase fairness and cost-effectiveness without sacrificing public safety.
Replealing the Death Penalty Repeal
SB 5339
Passed out of Senate, passed out of House Public Safety Committee, stalled in House Rules Committee

This bill repeals Washington's death penalty law. In October 2018, the Washington State Supreme Court declared it unconstitutional because it has been "imposed in an arbitrary and racially biased manner." These racial disparities are greatest in the numbers of Black people on death row and those who have been executed. Death penalty cases also require our greatest procedural safeguards, which delay resolution and drain resources. Courts have declared Washington's death penalty statute unconstitutional four times since 1972. It is time to stop trying to fix an unfixable law.
Expanding Ethnic Studies to K-12 Students
SB 6066
Passed and on Governor's desk to be signed into law

Protecting Patient Care Act
SB 5542 and SHB 1608/HB 2561
Not currently scheduled for a hearing

All people in Washington should have timely, meaningful access to the health care they need. The Protecting Patient Care Act safeguards this access by prohibiting health care entities from interfering with the information, resources and — in cases where a patient's life or health is at risk during pregnancy — services that able and willing doctors and nurses can provide.
Accountability and Transparency Standards for Automated Decision Systems
HB 1655 and SB 5527
Not currently scheduled for a hearing

This bill sets and enforces fairness and transparency for automated decision-making systems. Governments are rapidly deploying these systems to replace human discretion in many areas including hiring, housing, health care, and policing. These systems make decisions using secret formulas based on faulty assumptions and data, can be biased and inaccurate, and often disproportionately harm people of color, religious communities, and other historically marginalized groups. For example, one system recommended longer sentences for people of color than for white individuals convicted of the same crime. Vendors keep system details secret, often citing "trade secret" privileges, preventing the government and taxpayers from analyzing their performance. This bill gives lawmakers and their constituents the information they need to make informed decisions about whether and how these technologies should be deployed.
Face Surveillance Moratorium
HB 2856 and SB 5528
Not currently scheduled for a hearing

Many agencies in Washington are adopting face surveillance technology, also known as facial recognition, with little consideration of its effects on our democracy. These systems give the government unprecedented power to automatically and indiscriminately identify, locate, and track people. and assess their emotions or level of dangerousness, often making mistakes in potentially life-changing situations. They cannot be detected or avoided in public spaces; can be used on any still or video image; and are biased, misidentifying people of color, LGBTQ+ people and others more frequently. Existing federal and state law places no clear limits on the use of facial recognition systems. HB 1654 would put a moratorium on these technologies; create a task force to consider their use; and require state certification that a technology is bias-free before state and local agencies could use it.
Apple Health to Age 26: Healthy Youth, Healthy Washington
HB 1697 & SB 5814
Not currently scheduled for a hearing

Access to medical care is a basic necessity of life. When poverty, institutional racism, or immigration status pose barriers to accessing health care, everyone loses. Assuring that Washington's young people have health care coverage reduces discriminatory barriers to medical care and keeps entire communities healthy. This bill will extend access to Washington's Apple Health program to youth up to age 26, providing significant benefits to over 17,000 low income youth who are unable to receive federal coverage due to their documentation status. It will provide critical health care coverage for youth living at or near the federal poverty line at a time in life when a health crisis could have a lifelong impact on career, community engagement, and self-sufficiency.

Voter Restoration
SB 6228 and HB 2292
Not currently scheduled for a hearing

The right to vote is fundamental to democracy, but it has long been hindered by harmful and discriminatory tactics like gerrymandering, poll closures, and purges of voter rolls. While people with Washington State felony convictions can re-register to vote once they are no longer under active supervision, few returning community members know this, and the process is not automatic. SB 6228 and HB 2292 strengthen our democracy by automatically restoring the right to vote as soon as a person leaves Department of Corrections (DOC) confinement, and requiring DOC staff to provide written instructions for re-registering and the voter registration form itself.