Published:
Wednesday, May 9, 2018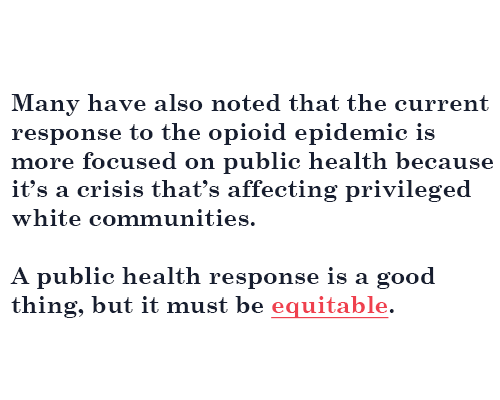 Here's a statistic some might find surprising: Opioid overdoses have in recent years killed far more people in Washington than traffic accidents. And while these overdose deaths are preventable, historically, society has instead attempted to deal with the complicated issue of drug abuse through heavy-handed and racially disproportionate law enforcement.
 
Our state is no exception. Between 1995 and 2014 there were nearly 400,000 arrests for drug crimes in Washington state, leading to over 100,000 felony sentences.
 
The toll opioid overdose deaths take on families and communities across our state is profound, yet this massive enforcement effort has done little to diminish drug abuse rates and has failed to stem the supply of drugs. And, because of racial disparities and discrimination in our criminal justice system, it has resulted in people of color being unfairly and disproportionately incarcerated for drug-related offenses, despite the fact that people of color are no more likely than white people to use drugs. 
 
Many have also noted that the current response to the opioid epidemic is more focused on public health because it's a crisis that's affecting privileged white communities. A public health response is a good thing, but it must be equitable. For example, because people of color face socioeconomic barriers to getting the health care they need, we need to make accessing effective treatment easier.
 
We also need to make sure that all people who need treatment get it, including those who use other drugs, like cocaine. A recent study found that the overdose death rate for African Americans from cocaine is similar to the opioid overdose death rate for white people. However, the public health response has not been the same. We also know that some of the most devastating effects of opioids have been felt by communities of color. According to the Centers for Disease Control, the national death rate of Native Americans from opioid overdoses was the highest of any racial demographic. Some 8.4 per 100,000 Native Americans died of opioid overdoses in 2014.
 
A public-health approach to reducing the harm caused by problematic drug use is a more equitable and effective way to keep all people in Washington safe and healthy. Thankfully, Washington state has a history of such pragmatism. In the late 1980s and early '90s, local public health agencies significantly reduced the spread of HIV/AIDS by quickly embracing syringe exchange. Washington also showed leadership by passing the nation's second 911 Good Samaritan law, which provides limited criminal immunity for people who seek medical assistance at the scene of an overdose. More recently, King County's LEAD program, which diverts people to services instead of jail for drug offenses, has become a national model. 

Another vital component of fighting the opioid epidemic is to make medically-assisted treatment (MAT) widely available. Recognized as an evidence-based treatment for opioid use disorders, MAT includes life-saving drugs, such as methadone, and buprenorphine, which reduce of the risk of relapse and overdose.

Despite clear evidence of MAT's effectiveness, there are often delays before people can access it. We need "treatment on demand" where a person can meet with a health care professional within one or two days, and in all necessary settings, including jails and neighborhood clinics. This is important because often a person with a substance use disorder wants to get treatment but can't get in to see anyone for weeks, and then changes their mind about getting help.

Opposition to these solutions comes in large part because programs that focus on detoxing and total sobriety, such as 12-step models, still dominate the national conversation on drug abuse. Treatment programs that require abstinence from drugs work for some, but because they aren't effective for everybody, they shouldn't be the only option.
Instead, we must recognize that ensuring people get the help they need sometimes means not insisting that they immediately stop using all drugs. Government institutions, like jails, must also not discriminate against people with opioid use disorder and allow them to take the necessary medications. 

In order to adopt a public health approach to the opioid epidemic, communities must stop relying on law enforcement and outdated treatment models. This will help us confront the racial inequalities that exist in our health care and justice systems and make saving human lives our first priority.