Published:
Wednesday, September 13, 2017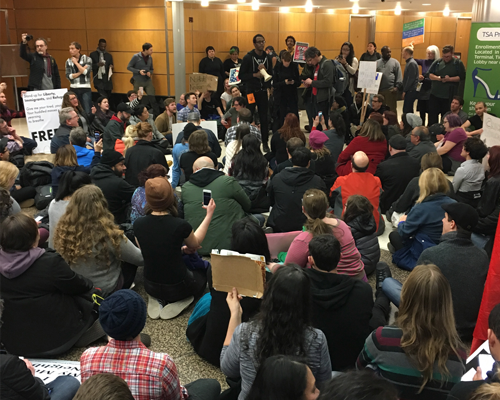 Protest—and engagement in vigorous political debate—lies at the core of our democracy.  But incitement to violence, and actual participation in violence, has no place in the First Amendment. Cities and their police departments have a duty to protect all residents from physical violence while accommodating the rights of all people who seek to protest.

Here are some important points to keep in mind regarding protest.

Do you need a permit to hold a protest or rally?

You may be required to get a permit if you are planning a large event that will block vehicle or pedestrian traffic, or will compete with other people's ordinary uses of a space. Examples of events that may require permits: A march that will block traffic or close streets; a rally that uses amplifiers; or group demonstrations at certain parks or plazas. You may need to apply for a permit several weeks in advance. This requirement cannot be used to prevent protests in response to breaking news. If you stay on the sidewalks, obey traffic signals, and do not block normal pedestrian movement, you shouldn't need a permit.
The government should grant permits for protests without regard to the political content of the protest.    The government may place reasonable restrictions on the time, place, and manner of a protest; but if the government seeks to limit an event based on public safety concerns, it must do so based on objective facts, not on the government's perception of a group's ideology.

What is the police's responsibility at a protest?

The police are charged with both safeguarding the public during a demonstration and protecting the free speech rights of demonstrators. The police may not break up a gathering unless there is a clear and present danger of violence or other immediate threat to public safety. If the police do issue an order to disperse, you face the possibility of arrest if you do not obey it.
Police must treat protesters on the basis of their conduct and not on who they are. For example, police cannot and should not treat a Black Lives Matter protest differently from other protests.

Do counter-protesters have rights?

Yes. Counter-protesters have the right to be present at a protest and to voice their views; they do not need to obtain a permit. They should not be allowed to physically disrupt the event they are protesting. Police may keep antagonistic groups physically separated – by barriers or police presence – but counter-protesters should be allowed to express themselves in the general vicinity of the protest they are seeking to counter.

What if others react violently to a protest?

A speaker at a protest is not legally responsible for the presence of angry listeners, and their hostile actions do not make the speaker's speech illegal. The presence of counter-protesters is not by itself enough to justify an order to disperse a crowd.
Sometimes when a protester expresses a controversial message, a person hearing it may react with physical violence. In such a situation, it is the job of police to protect the protester's right to free speech and their physical safety, and to arrest or otherwise control those who engage in physical violence.