Published:
Monday, April 10, 2017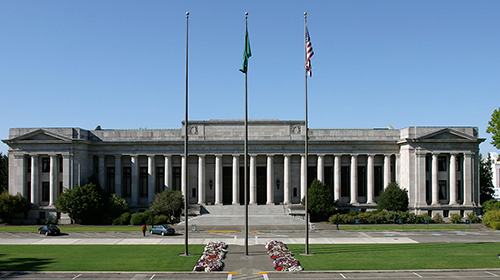 In a unanimous decision in
Re: the Marriage of Black,
the state Supreme Court affirmed there's no place for LGBT bigotry in court-approved parenting plans.
The case involves Rachelle Black, a stay-at-home mother of three from a conservative Christian family who filed for divorce in 2014, after coming out as a lesbian. The trial court used Rachelle's sexual orientation as justification for a parenting plan that gave residential custody to the children's father, severely limited Rachelle's visitation rights, stripped her of any decision-making authority regarding the children's education and religious upbringing, and placed restrictions on what topics she could discuss with them.
The Supreme Court in its decision agreed with arguments made by Rachelle's attorneys, the ACLU of Washington as friend of the court, and other organizations. The Court ruled that the trial court discriminated against Rachelle for her sexual orientation and impermissibly favored her husband's religion—which disapproves of same-sex relationships— when it approved the parenting plan.
The Court affirmed that "judges may not restrict parental rights based on sexual orientation, in the name of 'stability' or because of religious beliefs held by some members of the family," said Emily Chiang, Legal Director for the ACLU of Washington. "This decision is an important reminder that, regardless of when they come out, LGBT parents cannot be discriminated against simply for being who they are."
Decades before the legislature and voters adopted marriage equality, Washington courts already recognized that parenting plans cannot discriminate on the basis of sexual orientation, and that LGBT parents should be able to get divorced without sacrificing their relationship with their children—regardless of the family's religious background.
Despite this, the trial court approved a parenting plan riddled with gender stereotypes and false assumptions. For example, it relied on the testimony of a Guardian Ad Litem (GAL) who referred to Rachelle's sexual orientation as a "lifestyle choice" that might cause her children to be bullied at school.
The trial court adopted the GAL's recommendation of broad prohibitions on Rachelle's ability to discuss religion and sexual orientation with her children. It ordered that she refrain from having conversations with them regarding "religion, homosexuality, or other alternative lifestyle concepts," and that she be prohibited from exposing the children to "literature or electronic media; taking them to movies or events; providing them with symbolic clothing or jewelry; or otherwise engaging in conduct that could reasonably be interpreted as being related to those topics," unless approved by a therapist.
The Court of Appeals struck down those prohibitions as violations of Rachelle's First Amendment rights. The Supreme Court found that the GAL's testimony unfairly presumed that Rachelle's sexual orientation is inherently disruptive to her children, and that since the trial court relied heavily on such testimony, its entire decision was tainted.
"Bias against Rachelle permeated the proceedings here," wrote Chief Justice Mary E. Fairhurst.
Custody decisions cannot be based on societal or religious concerns about how children may react to a parent who comes out as gay or lesbian. The trial court's ruling not only reflected bias on the basis of sexual orientation, but also improperly favored one parent's religious beliefs without the legally required showing of harm to the children.
"Judges must maintain strict neutrality as to sexual orientation and religion in making decisions in divorce cases, and the Court sent a strong message reminding courts about that obligation," the ACLU-WA's Emily Chiang added.
The Supreme Court remanded the case to the trial court and recommended a new judge for it. Rachelle will have the opportunity to request more residential time with her children and a greater role in decision-making about important aspects of their lives.
You can read the ACLU-WA Amici Brief
here
.