Date:
Tuesday, June 29, 2021 -

5:00pm

to

6:00pm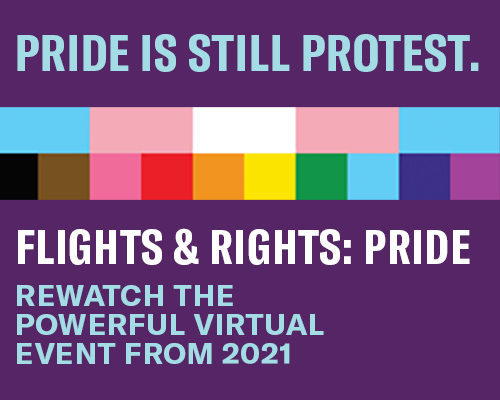 Flights & Rights is our regularly scheduled community series featuring important civil rights issues and great bevereages. This month, we build community virtually, so grab your beverage of choice and meet us online or via phone.
The pandemic has created unprecedented distress, greatly impacting the LGBTQ+ community, and further intensified with many larger Pride celebrations on pause for another year. Many have struggled with mental health issues and isolation on top of existing discrimination and inequalities. Join us for a conversation on how LGBTQ+ communities are finding ways to stay strong and connected, and how the ACLU-WA is working in the courts to ensure equal rights for all. ACLU-WA Executive Director Michele Storms moderates a conversation with Jaelynn Scott of
Lavender Rights Project
, Stacy Bass-Walden of
Alki Beach Pride
, and ACLU-WA staff attorney Lisa Nowlin.
One of the best parts of Flights & Rights? Connecting with our community – and this includes
beverage partners
across the state! Without them, there would be no Flights with our Rights! If you can, please take an opportunity to support our partners.
This month, we've partnered with
Stoup Brewing
in Ballard (Seattle) and Kenmore. Mention the ACLU for $5 off on 6/29 and 6/30 at the Ballard location, and on 6/30 and 7/1 at Kenmore.