Date:
Thursday, June 29, 2017 -

8:30am

to

1:00pm
Location:
Davis Wright Tremaine, Seattle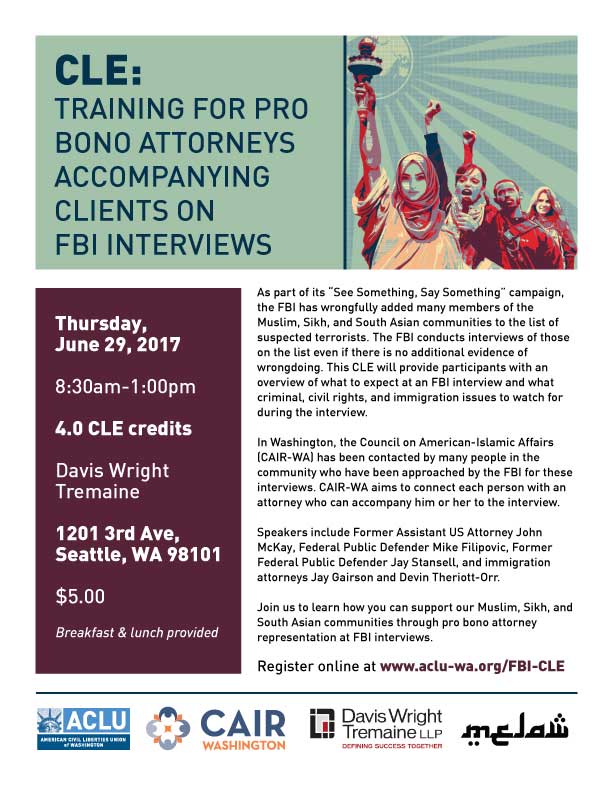 Please join the ACLU of Washington, Council on American-Islamic Relations, Davis Wright Tremaine, and the Middle Eastern Legal Association of Washington for a 4-credit CLE "Training for Pro Bono Attorney Accompanying Clients on FBI Interviews."

Date: Thursday, June 29, 2017
Time: 8:30am-1:00pm
Location: Davis Wright Tremaine (1201 3rd Ave, Seattle, WA 98101)
Cost: $5.00
Light breakfast and full lunch provided.

As part of its "See Something, Say Something" campaign, the FBI has wrongfully added many members of the Muslim, Sikh, and South Asian communities to the list of suspected terrorists. The FBI conducts interviews of those on the list even if there is no additional evidence of wrongdoing. In Washington, the Council on American-Islamic Affairs (CAIR-WA) has been contacted by many people in the community who have been approached by the FBI for these interviews. CAIR-WA aims to connect each person with an attorney who can accompany him or her to the interview. Having an attorney present is instrumental in protecting the client's civil rights. CAIR-WA and ACLU-WA will train a group of attorney volunteers to accompany clients on these FBI interviews. This CLE will provide participants with an overview of what to expect at an FBI interview and what criminal, civil rights, and immigration issues to watch for during the interview.

Speakers include Former Assistant US Attorney John McKay, Federal Public Defender Mike Filipovic, Former Federal Public Defender Jay Stansell, and immigration attorneys Jay Gairson and Devin Theriott-Orr.

Space is limited. Register today!