News Release:
Friday, November 20, 2009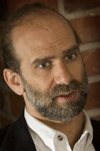 Security expert and author Bruce Schneier gave the keynote address at the Feb. 11, 2006, ACLU Membership Conference, "Thinking Sensibly About Freedom in an Uncertain World."
Described by The Economist as a "security guru," he looks at whether measures touted in the name of greater security actually work to make us safer. Schneier has testified on security before the United States Congress on many occasions. His current book tackles the problems of security from the small to the large: personal safety, crime, corporate security, national security. Schneier also publishes a free monthly newsletter, Crypto-Gram, with over 100,000 readers. More information on Bruce Schneier can be found here.

Watch his ACLU conference speech at the Seattle Channel. Schneier's comments begin 17:30 minutes into the streaming video feed.