News Release:
Monday, November 3, 2014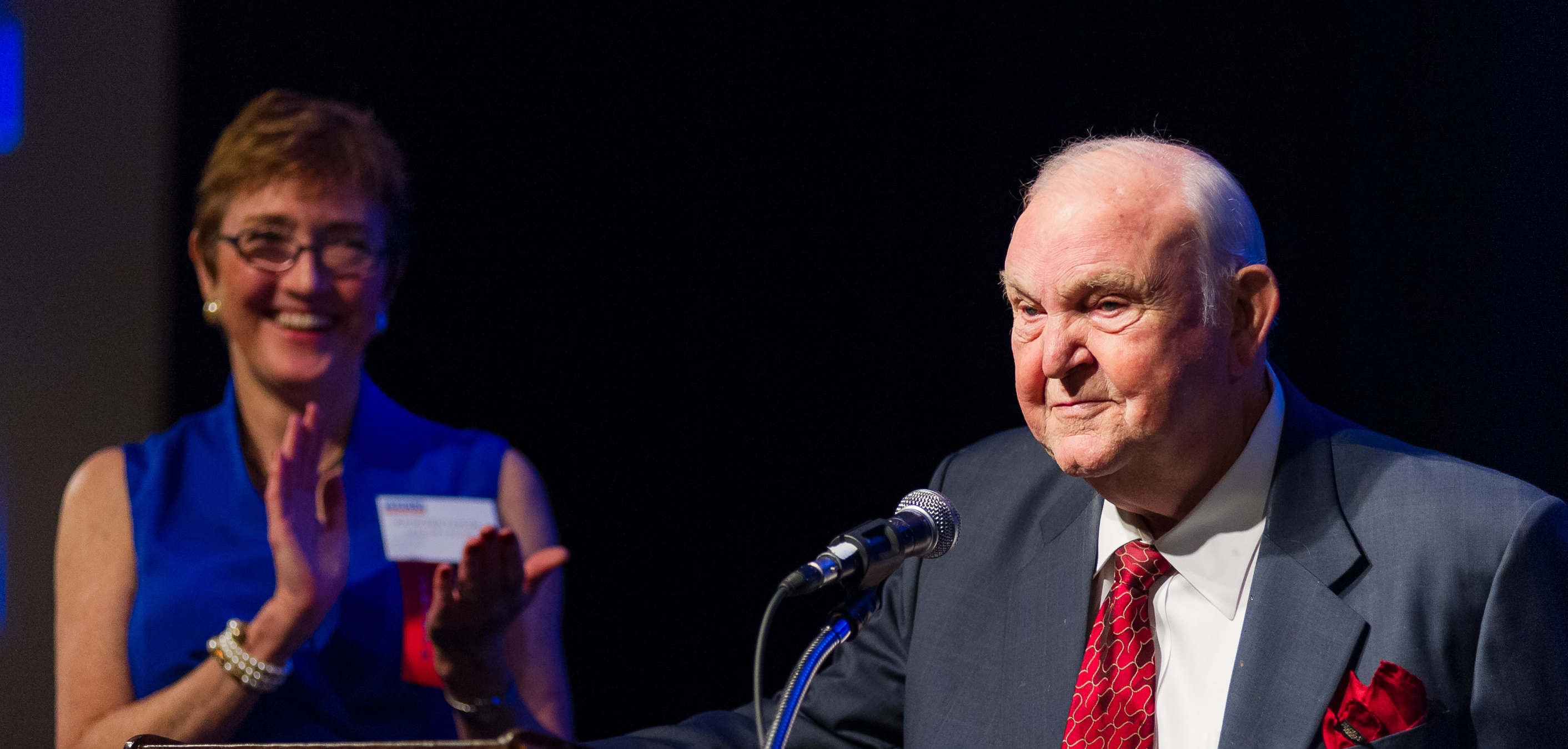 The ACLU of Washington honored civil liberties heroes at its annual Bill of Rights Dinner on November 1. Awards went to Floyd U. Jones and Alene Moris for lifetime achievements in advancing civil liberties; two legal teams from Perkins Coie that worked tirelessly on ground-breaking cases to reform public defense and enforce voting rights; internationally known rapper Macklemore, an outspoken advocate of LGBT equality; and student activist Sienna Colburn, who sparked a protest movement over the firing of a gay educator.
William O. Douglas Award: Floyd U. Jones and Alene Moris
The William O. Douglas Award is given to persons based on their "consistent, outstanding and sustained contributions to the cause of civil liberties." It is the ACLU of Washington's lifetime achievement honor. Floyd U. Jones and Alene Morris were honored for their decades of devotion to justice and equality. Both together and individually, they have contributed outstanding leadership, hard work, and enduring dedication to advancing civil liberties.
For the last 40 years, Floyd Jones has been an unwavering supporter of liberty and fairness for all. He has used his considerable financial expertise to accrue wealth and to share it with causes important to him. His unprecedented financial support of the ACLU-WA has had a lasting impact on the organization's financial stability, expansion of programs, and ability to sustain its work for years to come.
In the 1980s, even before the national ACLU had an endowment fund, Floyd helped the ACLU-WA start its endowment fund, and his firm began managing it.  In the 1990s, during the ACLU's national campaign to build the endowment, Floyd and his late wife Delores made a $250,000 gift to the fund – the largest gift ever received by the ACLU-WA at that time.  Floyd also actively encouraged others to contribute.  Now, decades later, as a result of the wise and prudent investing of Floyd and his son Steve, the endowment has earned more than $5 million to defend and extend civil liberties in Washington.
Firmly believing that more people should be aware of the ACLU's longstanding, invaluable work, Floyd and Delores conceived of and funded the one-hour documentary "The ACLU: A History," which aired nationally on PBS in 1998. 
Always thinking ahead and inspiring others to follow, in 2007 Floyd gave $2.5 million to the ACLU's Leading Freedom Forward campaign.  His gift was, again, the largest the ACLU of Washington had ever received.  The campaign strengthened the ACLU across the country, increasing staffing in key underfunded states and enabling the ACLU-WA to significantly expand its work.  It helped to establish numerous new positions at the ACLU-WA, among them the Floyd and Delores Jones Family Fellowship for a young attorney in the legal department.  His funding allowed us to continue the Technology and Liberty program, bolster the legal department, and add an Education Equity Director. 
Over the past few years, Floyd has directed increased support to the ACLU's work to end the crisis of over-criminalization. Deeply moved to address the problem, this year Floyd established the Floyd and Delores Jones Transformational Fund for Justice at the ACLU-WA. Yet again, the largest gift the ACLU-WA has ever received, the $10 million fund is dedicated to advancing major, systemic changes to the criminal justice system that will promote freedom and fairness for all, especially for the most down-trodden.
For more than 40 years, Alene Moris has made it her life's work to empower and uplift women.  She has spent her career counseling and guiding women to become leaders. In 1971 she and Dorothy Strawn co-founded the Women's Center at the University of Washington to assist and returning women students to the rigors of a university setting. The Women's Center has thrived, and its current mission is to promote and advocate for gender equity and social justice on campus and in the larger community. In 2001 the Center hosted the first-ever human trafficking conference in the state. This ground-breaking conference acted as a catalyst for the first statewide legislation in the country to criminalize the human trafficking industry. 
Alene co-founded the pioneering Individual Development Center on Capitol Hill in Seattle, a career-counseling center for men and women in transition, which she directed for 14 years.  She conducted sexual harassment trainings at traditionally male-dominated workplaces in the 1970s and '80s. In some towns, where Alene's views on equal treatment were not welcome, union bosses or employers tried to intimidate her. On occasion, her car's tires were slashed or windshield smeared with "Get out of town," but Alene never quit.
For her work on behalf of women, the University of Washington Women's Center established the Alene H. Moris Endowment Fund in 2003. And in 2008, she received the King County Bar Association President's Award, which honors special service to the Bar Association and to the community. Alene currently serves on the board of the Puente House Foundation, a nonprofit providing assistance to persons who need a structured residential living environment in their recovery from substance abuse. 
Civil Libertarian Award: Perkins Coie Legal Teams
The Civil Libertarian Award honors people and organizations that have recently made an outstanding contribution to the cause of civil liberties and justice in Washington state.  We honored two legal teams from the Seattle office of the Perkins Coie law firm for their dedication, advocacy, and thousands of hours of superb pro bono work as cooperating counsel in two ground-breaking ACLU-WA lawsuits.
Wilbur v. Mt. Vernont challenged the deficient public defense system of Mt. Vernon and Burlington, where excessive caseloads and inadequate monitoring deprived indigent people of the right to counsel – a right guaranteed by the Sixth Amendment. Generally a full-time attorney should manage only 400 misdemeanor cases per year, to ensure adequate time to meet with clients, interview witnesses, and properly advise clients. Attorneys in Mt. Vernon and Burlington were managing 650-1000 cases per year, on a part-time basis. 
In December 2013, the U.S. District Court in Seattle found that public defense in Mt. Vernon and Burlington offered clients little more than a "meet and plead" system, and required the cities to hire a supervisor to ensure their defense system complies with constitutional standards. Citing the landmark Gideon case that established the right to counsel for all people accused of a crime, Judge Robert Lasnik wrote, "The notes of freedom and liberty that emerged from Gideon's trumpet a half a century ago cannot survive if that trumpet is muted and dented by harsh fiscal measures that reduce the promise to a hollow shell of a hallowed right."
The Wilbur case has already had a positive impact on local and national indigent defense reform. The U.S. Department of Justice filed a statement in the case, reaffirming a federal interest in ensuring the mandate of Gideon and endorsing workload limits for public defenders. An opinion from Attorney General Eric Holder printed in the Washington Post, a nationally-broadcasted NPR story, and an editorial by the New York Times all called for a renewed commitment to adequate funding and oversight of public defense systems.
Likewise, the dedication and extraordinary hard work of a Perkins team was vital to a landmark victory for voting rights. In Montes v. City of Yakima, the ACLU-WA has represented two Yakima residents in challenging the city's voting system for city council. Though Latinos comprise a significant and growing segment of the city's population, no Latino has ever been elected to the council. An at-large election system, combined with racially polarized bloc voting, has served to deny Latinos a meaningful voice in city government. 
This August, the federal district court ruled in our favor, finding the city violated Section 2 of the federal Voting Rights Act by diluting the vote of Latinos. The Perkins Coie team had helped put together a truly compelling case – one that moved the judge to rule based on a motion of summary judgment, without needing a scheduled trial. In a strongly worded opinion, Judge Thomas Rice concluded, "In the final analysis, there is only one rational conclusion to be drawn from the undisputed evidence recounted above: that the non-Latino majority in Yakima routinely suffocated the voting preferences of the Latino minority."
With voting rights under attack around the country, this is a tremendous victory for fairness in elections. The case was the first vote dilution lawsuit to be brought in Washington state. Now the Latino community in Yakima will have a chance for their interests to be represented on the city council. That will impact how city services are allocated and will make a real difference in people's lives. We expect this ruling to be influential in changing unfair voting systems in other cities around the state.
Civil Libertarian Award: Macklemore
A Seattle rapper and musician who gained international recognition with a string of hits, Macklemore (Ben Haggerty) has been an outspoken supporter of gay rights. He shares his views about the issue in his moving song "Same Love," written in support of legalizing marriage for same-sex couples during the Referendum 74 campaign.  He explained that the song came out of his frustration with hip hop's attitudes toward homosexuality. Proceeds from the sale of the song supported the work of Music for Marriage Equality, a non-profit that worked closely with Washington United for Marriage.   
In 2013 he shot a promotional video, on a completely pro bono basis, for the ACLU-WA promoting membership in the ACLU; we turned into an online ad viewed by more than 100,000 people.  Macklemore helped us spread the word about the ACLU to a younger audience and recruit more than 250 members.
He was the first major celebrity and non-athlete to endorse the work of the You Can Play Project, a national nonprofit dedicated to ensuring equality, respect, and safety for all athletes, without regard to sexual orientation.  As part of his endorsement, he released a public service announcement. In the video, he acknowledges his gay family members and friends, says that anti-gay language has no place in music or sports, and that "if you have the skills, talent and heart, you can play."  The video has over 40,000 views on YouTube, and national media including the Huffington Post, Rolling Stone, and MTV have done stories on it. 
Youth Activist Award: Sienna Colburn
The Youth Activist Award is presented to a young person (age 22 or younger) or group of young people whose activism exemplifies work to defend and extend liberty and justice for all.  Sienna Colburn, a student at Eastside Catholic School in Sammamish, led the charge in a movement to support Mark Zmuda, a former vice principal who was fired last December for being married to a man. Sienna was a sophomore on the swim team coached by Mr. Z.
Outraged by his unfair firing, she posted to Twitter #savemrz2013. A social media campaign to Keep Mr. Z followed her tweet, and what ensued was a groundswell of support. Hundreds of students from Eastside Catholic and neighboring high schools organized walk-outs and sit-ins; the swim team posted a banner reading "We swim for Zmuda" at a swim meet; alumni conducted rallies and warned the school they would stop donating; parents threatened to remove their children from Eastside Catholic; and a petition calling for Zmuda's reinstatement garnered more than 20,000 signatures. Student activists also marked Jan. 31 as Z Day and urged Zmuda's supporters to wear orange, one of the school's colors, and to join in a minute of silence to show support for Mr. Z.
The students at Eastside Catholic bravely stood for the right to love and spoke out against injustice. Zmuda says, "It is those memories I will cherish and remember after all that transpired." Though Eastside Catholic refused to reinstate Zmuda, he has accepted a position as Associate Principal and Director of Athletic Programs at Mercer Island High School. 
The ACLU of Washington honored civil liberties heroes at its annual Bill of Rights Dinner on November 1. Awards went to Floyd U. Jones and Alene Moris for lifetime achievements in advancing civil liberties; two legal teams from Perkins Coie that worked tirelessly on ground-breaking cases to reform public defense and enforce voting rights; internationally known rapper Macklemore, an outspoken advocate of LGBT equality; and student activist Sienna Colburn, who sparked a protest movement over the firing of a gay educator.