News Release:
Wednesday, August 29, 2012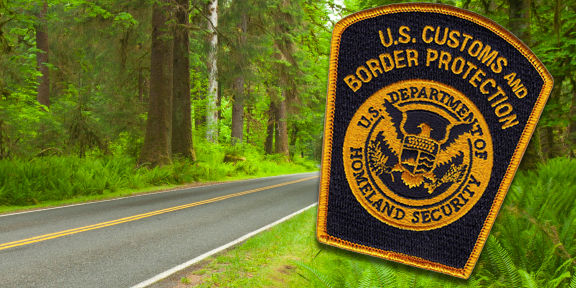 On Monday, August 27, 2012, Federal District Court Judge Benjamin Settle issued an order denying the government's motion to dismiss the lawsuit targeting unlawful U.S. Border Patrol actions in the Olympic Peninsula. The lawsuit seeks to end the Border Patrol's practice of stopping vehicles and interrogating occupants without legal justification.  The suit was filed by the Northwest Immigrant Rights Project (NWIRP) and ACLU of Washington.
Filed in U.S. District Court in Seattle, on April 26, 2012, the lawsuit asserts that the Border Patrol's stops on the Peninsula that are not based on reasonable suspicion violate constitutional rights, and it seeks a court injunction barring such unlawful stops in the future. The lawsuit is brought on behalf of three U.S. citizens who were stopped and interrogated by the Border Patrol, and is also seeking to represent a class of other individuals threatened by similar treatment.
The government filed a motion to dismiss, arguing that the Plaintiffs could not demonstrate that they might suffer from similar treatment in the future.  But Judge Settle rejected their arguments, holding that if the Plaintiffs allegations are accepted, they "have sufficiently shown that they are likely to suffer substantial and immediate irreparable injury."  The Court noted that one of the Plaintiffs alleges that he has been stopped three times and seized at least twice: "At this stage in the litigation these allegations are sufficient to show that there is a real and immediate threat that he will be 'wronged again,'" said the Court. 
"We are pleased that the federal judge has rejected the government's efforts to prevent this case from moving forward," said Matt Adams, legal director of NWIRP.  "Now Plaintiffs will be able to have their day in court to demonstrate that action is needed to prevent them and others from being stopped and interrogated by the U.S. Border Patrol in violation of their constitutional rights."
"The residents in this suit worry that they could be stopped and questioned without reason any time they drive or are passengers in cars. People in America should not be stopped by law enforcement just because of their appearance and ethnicity," said ACLU-WA legal director Sarah Dunne.
The lawsuit seeks a declaration that the Border Patrol's suspicionless stops – stops without any legal justification – violate the Fourth Amendment and exceed the agency's legal powers. The suit seeks to prohibit Border Patrol agents from stopping vehicles without reasonable suspicion that an occupant has entered the U.S. without approval.  It also seeks to prohibit stops altogether until each agent on the Olympic Peninsula has received training regarding what constitutes reasonable suspicion for a stop. The suit asks the court to require that Border Patrol agents prepare documentation recording the basis of their suspicion that justifies each stop.  Furthermore, the documentation should be easily accessible to a court-appointed special master to monitor compliance.
Representing the plaintiffs are NWIRP legal director Matt Adams, ACLU-WA legal director Sarah Dunne and staff attorney La Rond Baker, and cooperating attorneys Nicholas Gellert, Brendan Peters, Javier Garcia, and Steve Merriman of the firm Perkins Coie LLP.
Click here for a PDF version of the class action complaint.
* * *
Northwest Immigrant Rights Project promotes justice for low-income immigrants by pursuing and defending their legal status. We focus on providing direct legal services, supported by our education and public policy work. NWIRP is the only entity in the list of "Free Legal Services" that is given to individuals placed in removal (aka deportation) proceedings in Washington state.