News Release:
Monday, October 9, 2006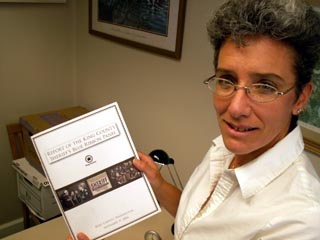 The King County Council voted on Oct.9 to create an independent office to review complaints of misconduct by Sheriff's Office employees. The new Office of Law Enforcement Oversight was one of the recommendations of a blue ribbon panel that included ACLU of Washington Legislative Director Jennifer Shaw.
The King County Sheriff Blue Ribbon Panel issued its 76-page report on Sept. 11, after seven months of research and public hearings. The panel was appointed following a series of stories in the Seattle Post-Intelligencer that detailed alarming problems with oversight of Sheriff's deputies. The series showed that the Sheriff's office often did not investigate, discipline or fire officers accused of serious misconduct.
"The blue ribbon panel has created a system of oversight that will ensure that all Sheriff's department employees are held to the highest professional standards," said the ACLU's Shaw. "Without independent oversight, the department can't earn the trust of the communities it serves."
In the panel's work, Shaw drew from her practical experience as a criminal defense attorney, as well as the ACLU's extensive expertise on police accountability issues. The ACLU has also participated in efforts to bring more accountability to police departments in Seattle, Tacoma, and Spokane.
The report found that Sheriff supervisors oversee too many officers at a time; the office lacks enough internal investigators to handle complaints against officers; it does not have consistent standards of performance for managers; and it has not done performance reviews for some employees in seven years. Most important, the office does not have solid internal or external methods for investigating employee misconduct.
King County Executive Ron Sims's proposed budget includes funding for the independent oversight office. As envisioned by the panel, the office would include a full-time director, investigator and support staff. It would have the authority to investigate claims of misconduct, full access to all current case information, and the option to submit recommendations directly to the Sheriff.
In addition, the panel recommended that the county provide funds to implement these changes:
Improving the management and supervision of officers. This includes hiring more supervisors and implementing regular and meaningful performance reviews.
Adding more internal investigators and improving the process for submitting and tracking complaints against officers.
Establishing clear performance standards, including the posting of a code of ethics and values.