Published:
Tuesday, February 25, 2020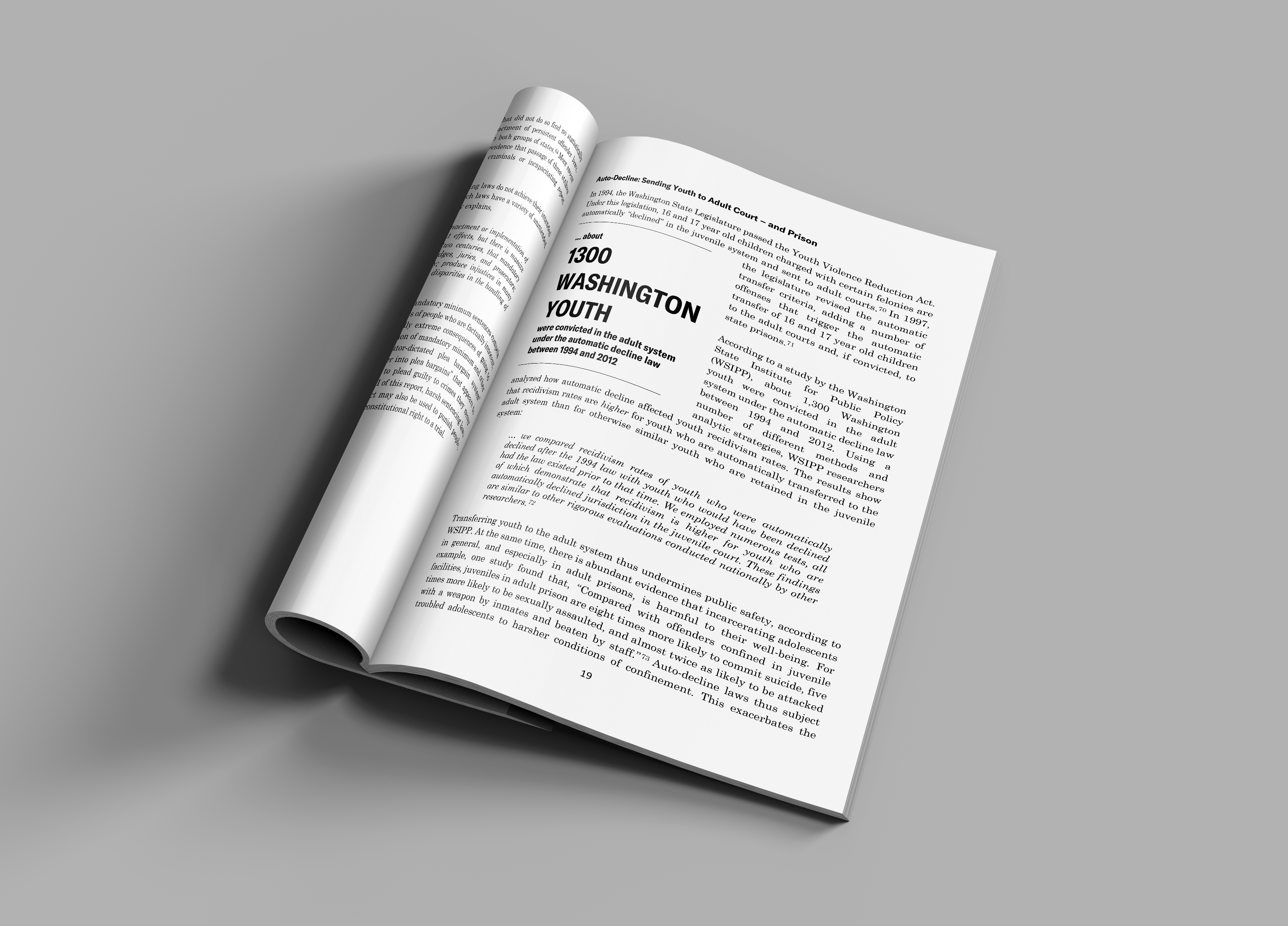 Over the past five decades, the number of people in jails and prisons in the United States has increased dramatically. As a result, the U.S. incarcerates more people, both in absolute numbers and per capita, than any other nation in the world.

Our nation's reliance on mass incarceration is unconscionable and unjust. It is also racially disproportionate. The incarceration rate of African Americans is five times the rate of white people. And the consequences of mass incarceration are not limited to individuals; they are felt by families and communities, for generations to come.

The state of Washington is implicated in this tragedy. Despite plummeting crime rates, Washington is locking up more people than ever before. Since 1978, our state's imprisonment rate and the total incarceration rate have more than doubled. Sentences have gotten dramatically longer, too. From 1986 though 2016, the violent crime rate fell by 31 percent. By contrast, the rate at which long and life sentences were imposed increased by 175 percent.

And, through the hardening of sentencing laws, Washington has all but abolished parole and early release for good behavior, thereby extinguishing any hope that a person serving a long sentence could have for being released. As a result, Washington faces an increasingly elderly prison population, and the staggering financial and moral implications that come with it.

This has occurred in sharp contradiction to all that we know about extreme sentences: that they do not deter crime or promote rehabilitation; that they do not benefit victims; and that for young people they are especially excessive, since research shows people tend to "age out" of criminal behavior.

The ACLU-WA has advocated for programs that divert people from incarceration to theraputic and community-based alternatives and remove barriers to re-entry for those who have served their time. While efforts like these have reduced the numbers of people entering prison and returning to it, they are not nearly enough. Indeed, Washington still has 19,000 people behind bars.

For these indviduals, time is of the essence, and as this report reveals, the essence of the problem is time. Data from three decades of sentencing records in Washington shows that the rise of extremely long sentences—entire lifetimes behind bars—is largely to blame for mass incarceration in our state.

The ACLU of Washington believes the existence of mass incarceration—the widespread caging and warehousing of people—diminishes us all. It deprives us of human potential; of family, friends, neighbors, and community members, and deprives us of the resources we need to create conditions where violent crime is rare. The ACLU of Washington believes that fairer sentencing promotes respect for the rule of law and increases safety.

Our Smart Justice campaign seeks to significantly reduce the state's incarcerated population in jails and prisons and to eliminate racial disparities. It envisions a transformed criminal justice system that is smaller, free of bias and discrimination, rehabilitative, and committed to safe and healthy individuals and communities.

To truly reverse course on incarceration in Washington, the ACLU of Washington believes legislators must engage in meaningful sentencing reform that reduces sentence lengths and eliminates most enhancements. Reducing the amount of time people serve can lead to moving thousands from prison who do not need to be there.

The causes and consequences of imprisoning so many for so long are not easy to bear, but moving society away from further mass incarceration is a challenge we can solve together. We invite you to take a close look at how and why Washington became a state of mass incarceration, and to join us in creating a state where it no longer exists.