Published:
Wednesday, July 17, 2013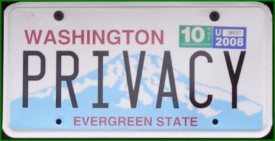 When you head out in your car to go to work, to church, to a doctor's appointment or to a community meeting, your movements are being increasingly tracked. A report released today by the national ACLU documents how police department across the country are using scanning devices to collect license plate and location data of each passing car – even when the drivers have broken no laws.
The report, "You Are Being Tracked," reveals that many departments are keeping this location information for years or even indefinitely, and that few departments place any restrictions on how this information may be used. It's easy to foresee that this information could be mined and assembled in the future to create records of nearly everywhere each of us has driven.
The report stems from public records requests by 38 ACLU state affiliates that produced more than 26,000 pages of documents from federal, state and local law enforcement agencies about their use of these automated license plate readers (ALPR). The report explains how ALPR works, analyzes how law enforcement is using the readers nationwide, and provides policy recommendations to protect privacy.
Earlier, the ACLU-WA began our own investigation of law enforcement use of ALPR. Through a series of public records requests and interviews with over a dozen law enforcement agencies, we confirmed that at least 22 city police departments and county sheriff's offices across Washington owned ALPR systems. We assume that those numbers have only increased since our inquiries in 2011. In a previous blog post we outlined how ALPR is being used within the state and flagged some of the privacy concerns it raises.
The national report confirms that the problems we identified locally are reflected in communities throughout the U.S. For example, our study found that few police departments in Washington place any substantial restrictions on how the location information may be used. Some limit use to identifying stolen vehicles, but the majority do not appear to have any use limitations. Similarly, on a national level, the approach in Pittsburg, CA is typical: a police policy document there says that license plate readers can be used for "any routine patrol operation or criminal investigation," adding, "Reasonable suspicion or probable cause is not required." A Scarsdale (NY) Police Department document even states that the use of ALPR "is only limited by the officer's imagination."
Without use limitations these systems could be put to problematic uses. In New York, for example, scanners on police cars were used to keep track of vehicles that visited a local mosque.
The data also reflects that only a small fraction of the plate scans are flagged as "hits" – i.e., actual violations of the law. We saw this in information from the Seattle Police Department. The SPD collected 7.3 million records during its initial pilot program and only 7,244 came up as hits. Across the country the numbers look the same. Police departments are storing huge numbers of records on scanned plates that do not return hits for criminal activity.
Policies for how long data may be stored vary widely. Some departments delete records within days or weeks, some keep them for years, and others have no deletion policy at all – meaning they can retain them forever. In Washington, several agencies do limit retention to 60 days, but others allow retention for one year, or in some circumstances, indefinitely. The national study was able to identify a few agencies, like the Minnesota State Patrol, that have more privacy-protective policies requiring deletion after 48 hours.
We have the opportunity to act now in Washington to protect the privacy of our travels. It's time for our legislators to put regulations in place to ensure that ALPR systems are not used to create large location tracking systems of innocent people. Legitimate uses of the readers should be specified, and there should be no retention of location information unless it relates to suspected criminal activity. In addition, collected information should only be retained for a limited time.
The report, an interactive map with links to documents, and an interactive slide show are available at: http://www.aclu.org/plates